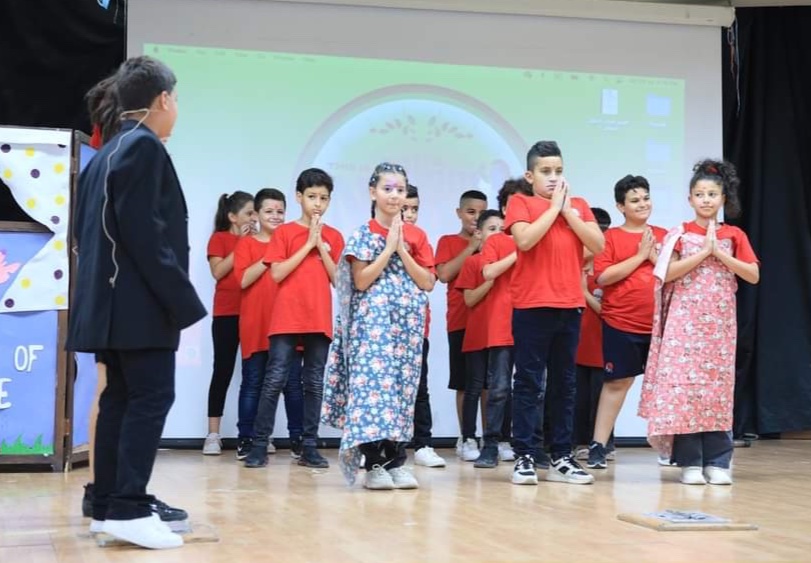 Courage. Compassion. Care. These are just some of the core beliefs Seeds of Hope revolves around. We foster them in the staff and teach them to our students every day with the hope that we are making a difference.
And while we've seen our focus on Core Values impact our students and staff over the years, it turns out they weren't the only ones listening. Recently, we have seen the reflection of these values in our community at large, and the results are incredibly encouraging!
For instance, neighboring schools in Jericho have been so impressed by the standard of education at Seeds of Hope that they are starting to implement similar methods. Regina Shaheen, who helped found our After School Program at the Cultural Center, recalled: "When we first started with new ideas and activities, we kind of felt like pioneers because no one has ever done something like this in Jericho. Now, we can see that these ideas are no longer new to the community. Other schools and organizations have adopted them, and they have become the new normal."
When Regina and others at the Cultural Center first made bold moves like incorporating presentations and public speaking into the curriculum—something most students in Jericho don't experience until University—neighboring schools were skeptical. After seeing the courageous spirits of students at Seeds of Hope, however, they began integrating these lessons as well.
"We were able to help students gain confidence, and now it's the most natural thing for them to speak up and voice their opinions." 

-Regina Shaheen
While these learning opportunities are wonderful, the truly encouraging part is that we're seeing our core values rub off on other organizations as well. Because of this, other schools in the community are also seeing the birth of confidence and courage in their students. The next generation of Jericho is already stronger.
"Why is Seeds of Hope always so creative?!" wondered Abeer, who works in Social Development in Jericho. "This raises questions in my mind trying to find out the difference between Seeds of Hope and the public organizations," she shared. "There is something special. Something makes them different. I watch Seeds of Hope with a healthy jealousy."
It doesn't stop with the younger generation, though. The Director of Social Affairs in Jericho even contacted Seeds of Hope to learn more about the services we provide for the community. Historically, the social affairs office of Jericho has always required citizens to come to them for requests and aid. But Seeds of Hope introduced them to the idea of a home visit—pursuing opportunities of compassion instead of simply waiting for those in need to come to them. 
Hanadi, the Director of Social Affairs in Jericho, was particularly touched by our recent Night to Shine event. "In my line of work, we have always thought that people need equipment like wheelchairs, crutches, glasses, etc. But we saw at Night to Shine that isn't all they need. Seeds of Hope has opened our eyes to how we ought to move forward serving people. Yes, we need to meet needs, but also so much more.
"Ten years ago, when Seeds of Hope started working with the handicapped community and distributing wheelchairs, it was looked on in a shameful light," Hanadi remembers. "It's sad to say, but people with special needs have always been looked upon poorly in our culture. But because Seeds of Hope started to work with these people publicly and without any shame, people started to change how they viewed such things. And many of the individuals started to feel proud of who they are. They started to see value in who they are."
After seeing the impact of Seeds of Hope in Jericho, the social affairs office wanted to do better, and their first call in this mission was to Seeds of Hope. They have seen the benefits of the compassionate service that your generosity provides to the people of Jericho, and they are working to reflect that compassion in their practices now as well.
In addition to this compassion, the intentional care that Seeds of Hope demonstrates in Jericho is changing the community gradually but significantly. In fact, after a Seeds of Hope project team collected and disposed of the garbage in a residential area in Jericho, one member of the community even visited Seeds of Hope to show his gratitude for the care the Seeds of Hope team showed his home. 
He shared that he was a little embarrassed that he'd never thought to do the work himself but that Seeds of Hope had inspired him to take better care of his home. Now, he and his son pick up trash each morning on their way to school. 
"Seeds of Hope is making great waves in Jericho, and their influence is grand. It's a great thing for the entire community. We gain great encouragement from their presence."

-Hanadi, Director of Social Affairs in Jericho
The impression that our values have made in the community of Jericho serves as a sign that we are fulfilling our purpose. Whether it be the Seeds of Hope school, the Cultural Center, or our Seeds of Hope project teams, we are not only making an impact on the people we serve but also on the world they live in. It is because of your generous support that we are able to set these examples of courage, compassion, and care in the community of Jericho.