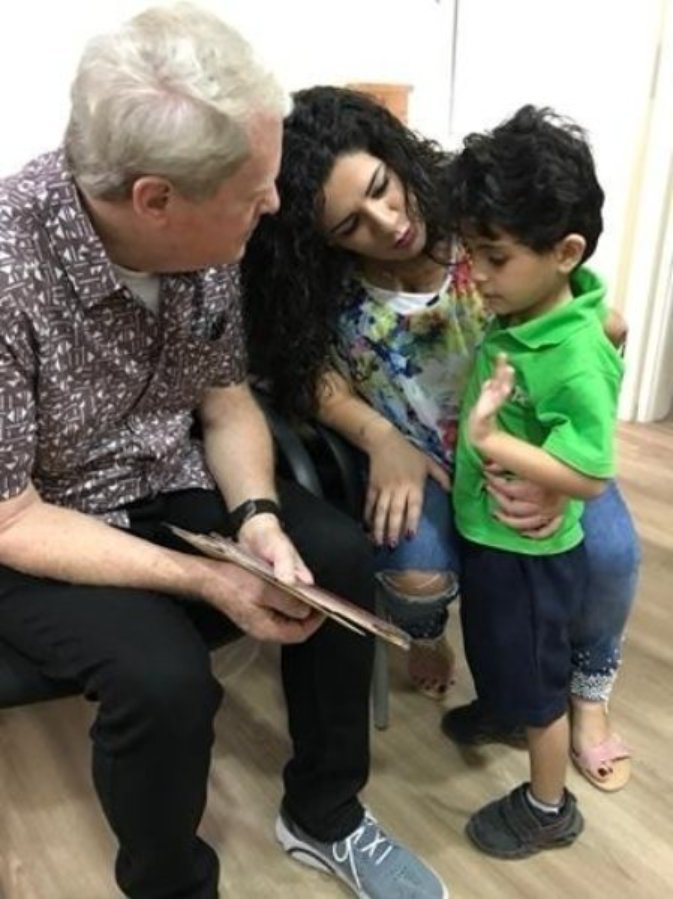 Over the last decade, Seeds of Hope has grown from a small group with a big idea to a fixture of the community with more impact and influence than we ever dreamed. But we didn't do it on our own.
Seeds of Hope is the product of hundreds of staff, volunteers, and supporters like you who decided to lean in and invest in the work we're doing. 
This week, we wanted to introduce you to a few members of the Seeds of Hope family and let you hear first-hand what they love and appreciate about Seeds of Hope!
***
Lisa Myers first visited Seeds of Hope as a project team member from her home church. She served on a few short-term trips, but when she found herself with extra time during a career transition, she spent three months in Jericho this year serving as a volunteer.
"I was continually surprised by the level of influence and respect Seeds of Hope has earned in the community. Whenever I met new people and mentioned that I was working with Seeds of Hope, they nodded in appreciation or mentioned a positive experience with them. For a Christian organization operating in a predominantly Muslim community to have built that kind of trust, it's clear that God is present in a big way in Jericho!
"They have an amazing staff of people who serve with excellence, but with volunteers, they can accomplish so much more! Foreign visitors serving in the community create a lot of excitement and interest, providing an opportunity to demonstrate just how far the love of Jesus Christ can reach."
***
Lara Nassar is one of our newest staff members in Jericho. She was recently hired as our Preschool Principal.
"I love children and wanted to use my university degree, but Seeds of Hope's reputation made me want to work there. I'm from the nearby town of Taybeh, and Seeds of Hope is very well known. There is great demand to register children and get on the waiting list, which is evidence of the respect people have for Seeds of Hope.
"I've been impressed with the way we all work as one team with love, humanity, and humility by applying the teachings of Jesus. I wish everyone would embrace the values of Seeds of Hope in this country and follow their example."
***
Jim Erikson served as a missions pastor for over 20 years and helped support Seeds of Hope as an international partner of North Point Ministries during that time. He recently retired and is using some of that time to serve as our newest board member!
"Retirement for me is more than relaxing on the beach. It includes ministry involvement, and I love being able to work with one of my favorites. I admire the Seeds of Hope staff and their desire to continue moving the mission forward.
"I wish more people knew about Child Sponsorships! Parents at the Seeds of Hope school only have to pay a portion of the tuition, and sponsors, at $50 per month, help Seeds of Hope cover the difference. The generosity of a sponsor provides each student with essential resources, educational opportunities, and a support system to nurture their growth and potential. What a bargain!"
***
Caitlin Jones has worked with Seeds of Hope for the last three years, helping with newsletter stories and updates.
"After three years of working with Khader and the Seeds of Hope team over Zoom and WhatsApp, I finally got to visit Jericho in person this year. Seeing it in person made everything come to life even more! Seeds of Hope has become a cornerstone of the community and has impacted so many people both directly and indirectly.
"I really admire the intentionality and strategic vision that the Seeds of Hope leadership embraces. Khader and the Board Members are committed to staying focused and making steady progress on their long-term goals. They have made so much progress since I've been involved, and it doesn't seem to be slowing down. I can't wait to see what the future holds!"
***
These are just a few examples of the incredible people who make up the Seeds of Hope family in Jericho and across the world. Each one took a step to learn more or get more involved, and we'd love for you to do the same!
Plan a visit, join another project team, sponsor a child, take a step to give regularly—we believe these steps can life-changing for you, but they are certainly life-changing for us and the men, women, and children we get to serve.
For those of you who have already taken those steps, thank you! We're so grateful for each and every one of you.