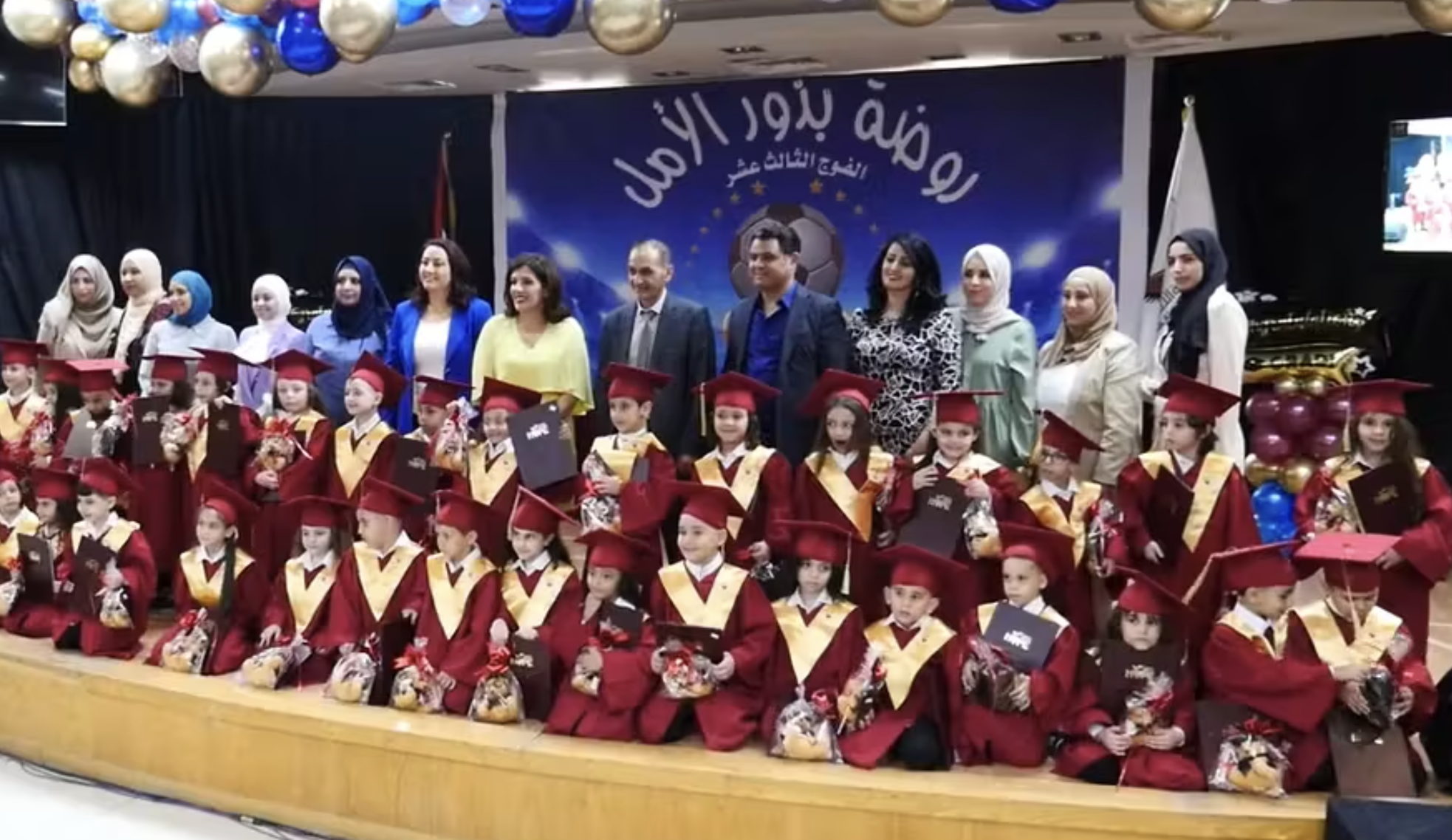 "In Love, We Grow"
For those who have visited our school, you may have seen these words inscribed on our walls and printed on shirts and banners. They are the theme and guiding light for all we do at Seeds of Hope school. They're our constant reminder that children grow best in environments of love, support, and peace—pillars we're committed to providing at Seeds of Hope.
This week we saw the fruit of that commitment once again as we celebrated the end of another school year. While we honor all our students' hard work—from preschool to fifth grade—our kindergarten graduation is always a special time to celebrate and appreciate the growth we see at Seeds of Hope school.
"We said goodbye to our 13th class of kindergarten graduates," said Sereen Shamali, Kindergarten Principal. "But I feel happy that they are not going to a different school. They're staying and growing with us. We're growing so fast because of your support."
The Seed of Hope School celebrated kindergarten graduation with special performances from each class:
When we first began, kindergarten graduation was the end of a child's journey with Seeds of Hope, but as Sereen said, thanks to your incredible support, that's no longer the case. In the fall, we will launch two new sixth grade classes as we continue to build our school.
"I know that when businesses or organizations grow, they can sometimes lose quality," said Seeds of Hope CEO Khader Ghanim. "But what I see with Seeds of Hope's growth is that the quality only gets better. From starting with two employees to now having 65, I am so impressed with the team.
"As I watched the kindergarten graduation, I knew the great impression even an event like that can have on our community. Our teachers and students shine, and people can see that there's something special about our work."
We were thrilled to see the growth in our students this year—not just academically, but in their character and integrity as well. We can't wait to see how they continue to grow in love as the Seeds of Hope school does the same.
"Your support encourages us, as leaders, to keep going without fear," Khader shared. "We can achieve our goals and continue growing to higher grades to see true change in our children's lives."
Thank you for making another incredible school year possible at Seeds of Hope!