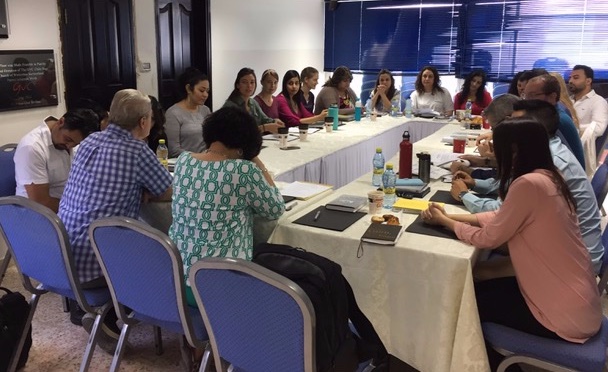 At Seeds of Hope, we focus on the whole child. In fact, it's one of the main things that sets us apart from other schools and programs in Jericho. It's not just about academic achievements or getting good grades. We want children to learn core values like trust, self-control, and love. We want them to be life-long learners and develop conflict resolution skills. We want to care for their hearts as well as their minds. And that's not just true for the children we serve. It's also a big focus for our staff team.
The Seeds of Hope staff is a diverse group of men and women made up of different personalities, different backgrounds, and spread out across continents. That's why staff development is so important to us.
"We wanted to get everyone on the same page," says Stevie Ghanim. Stevie is not only the wife of Seeds of Hope CEO, Khader Ghanim, she's also an Assistant Director at Seeds of Hope and worked to establish annual staff development weeks. "We wanted everyone to understand the vision, to buy into it, support it, and believe in it," Stevie remembers. "We knew this training would help increase the confidence of our staff members."
For the past five years, the staff has gathered to work with Fran LaMattina, a Seeds of Hope board member and executive coach. It's become a week that they look forward to every year. They learn about each other and study leadership books like The Five Dysfunctions of a Team by Patrick Lencioni and The Next Generation Leader by Andy Stanley. As the staff grows in their understanding of themselves and each other, they've learned to value their differences and work together more effectively.
"I've never worked in a more welcoming environment," says Seeds of Hope Chief of Staff, Fuad Jaddou. "Where people don't envy each other, and they really want to work together." That's the true heart behind our staff development strategy: helping our staff embody and reflect the values that we hope to teach the children and families we serve. "You can't give what you don't have," Fran often reminds the team. "We have to invest in our staff so they can invest in our community."
And our community has certainly experienced that investment. From increased influence with the local government to healthy, encouraging environments that draw new people in, staff development is the thing that sets us apart. "What has been birthed out of those meetings together has had a domino effect on everything we do," says Stevie.
"I want to thank Fran for helping us find ourselves. Many people live their whole lives without discovering themselves. We're so grateful for her."
–Fuad Jaddou, Seeds of Hope Chief of Staff
This year, like all things, staff development will look a little different. With travel restrictions still in place, we're spreading one week of impact out over many monthly video calls. Our team will be studying a new leadership book together and will continue to develop as a team and as individuals. At the end of the day, the time and place aren't nearly as important as our commitment to keep learning and growing together.