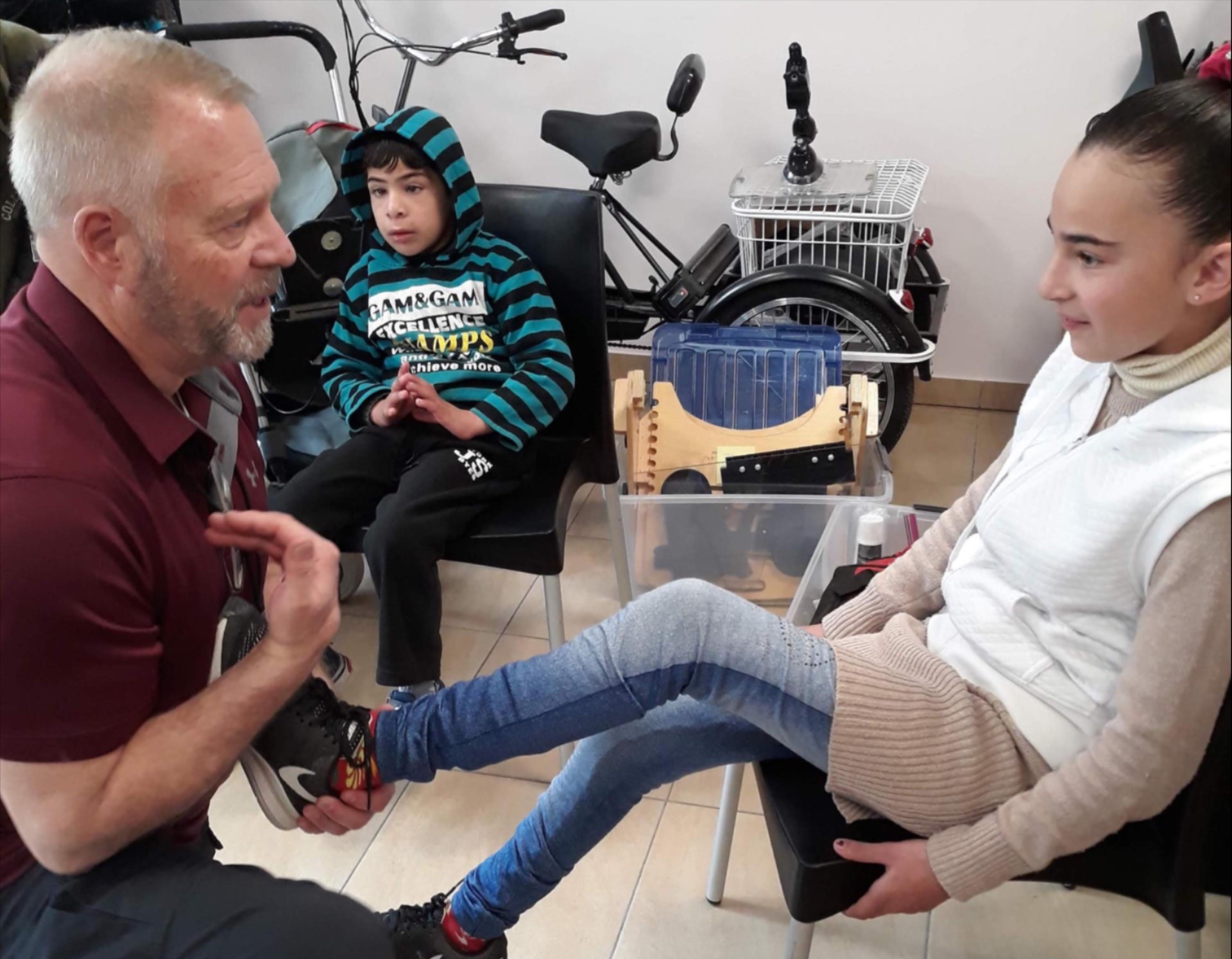 Whether you're a parent, an aunt or uncle, a godparent, or friend, we can all relate to the joy and excitement of watching a child's first, feeble steps. It's a moment full of independence, possibilities, and hope. But what if that moment never comes? You may have experienced the difficult path of having a child or loved one with mobility issues. It's an all-consuming struggle that affects almost every aspect of life. And if you don't have access to resources like wheelchairs, crutches, and other mobility aids—it's even worse.
That's why we're so grateful for our partnership with Unto. Each year, they send teams and supplies to host a week-long mobility clinic in Jericho. What started small with their first trip in 2013 has grown to the point of sending a full shipping container packed to the brim with wheelchairs, walkers, and medical equipment each year. Families travel from hours away to see their specialized team of nurses, doctors, physical therapists, wheelchair mechanics, and seamstress. It's one of our favorite weeks each year and can be life changing for the families who visit.
Take Gaith, for instance. Gaith has cerebral palsy and was brought to the clinic last year by his mother. Despite it being way too small, she had to carry him in a baby seat because it was all she had. The team from Unto spent over five hours fitting Gaith for his first wheelchair. From custom padding and straps, to checking and rechecking to make sure the chair wouldn't cause him pain, the volunteers were able to provide resources and customization that Gaith's mother would never be able to afford.
Another visitor to the clinic was a Muslim man who brought his 16-year-old daughter. They had traveled for hours and he was desperate to get help for his daughter, who had never been mobile. The team spent several hours with the girl fitting her in a chair and making sure everything was just right. The father was amazed by the time and attention given to his family. He came back the next day just to say thank you. He told the team: "My daughter has been in her bed since she was born. Yesterday was the first time we have all sat in the living room together as a family."
In the culture around Jericho, many people see a disability as a shame upon the family. They are hesitant to talk about their needs or seek support. However, through the Seeds of Hope mobility clinic, families realize that they are loved and cared for. They start to open up and become more vulnerable. In fact, there is health education that can help prevent some of the birth defects and degenerative conditions that we treat in the clinic. As people open up and are more willing to communicate about their illnesses, we've been able to teach people simple things that could prevent more mobility issues in the future.
"This gives us the impact to reach people who we would never normally meet," says Fuad Jaddou, who leads humanitarian aid projects at Seeds of Hope. "Year by year we've seen the difference in people starting to smile and even ask the volunteers for prayers. They see their hearts." At the end of the day, it's truly the hearts of the volunteers that shine through. From unloading the shipping container late at night, to spending hours working on the perfect fit, they serve with love, patience, and compassion, and it makes all the difference.
For the first time since 2013 Unto won't be able to send a team this January due to COVID-19 travel restrictions. However, they are still able to send a container of supplies. Thanks to your ongoing support we are putting together a local team to staff the clinic and continue to serve our community. We know the need is greater than eve
r, and no matter what happens, we are excited to help people experience the 
independence
, 
possibilities
, and 
hope
 that comes with mobility.