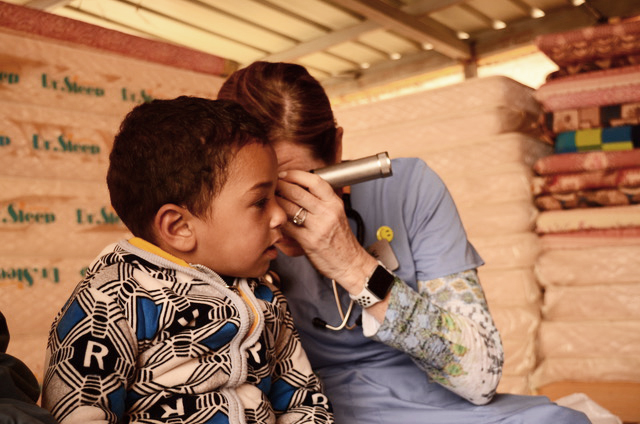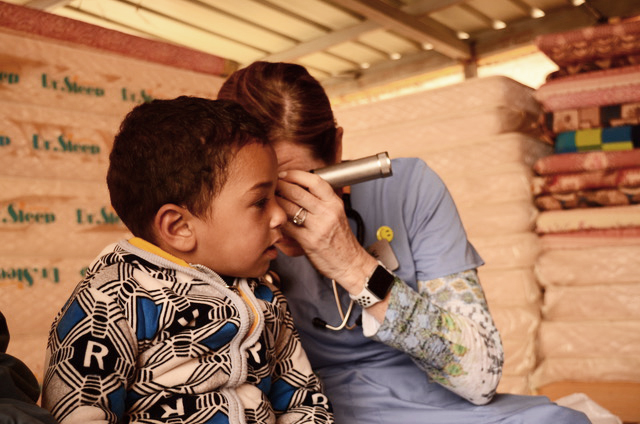 Imagine the day your blurry eye sight becomes clear; when the ability to move becomes an option; when your medications you need to survive get handed directly to you, and with a smile.
Imagine the day that you become free from the bounds of your illness or disability, and remember what it's like to live.
On March 23, 2019, 18 volunteers arrived in Jericho with bags of medications and medical supplies, and hearts determined to make a difference. Seeds of Hope hosted these volunteers in providing medical services at the Seeds of Hope Cultural Center along with single-day visits to a local nursing home and Bedouin Village.
This group of volunteer medical professionals saw 302 patients over the timespan of four days, and provided a wide range of services. From distributing medical equipment in the form of braces, wraps, eyeglasses, and blood pressure cuffs, to providing medications and specialized care, the volunteers spent their time helping as many people as possible.
From 9:00 a.m. -5:00 p.m. each day, the clinic opened its doors and Global X, the volunteer medical team from North Point Church in Atlanta, Georgia, got to work. The team provided the people of Jericho with items such as vitamins and eye drops, along with prescription and nonprescription medications to relieve allergy, sinus, blood pressure and other symptoms.
"Many people don't know they have these diseases until they're here."
Fuad, the Chief of Staff for Seeds of Hope, explained how a lot of patient's problems are unknown until they get into the clinic and receive an official diagnosis. Therefore, many of the patients asked for the volunteers to leave items such as blood pressure cuffs and blood sugar monitoring strips, and the volunteers did so whenever possible.
This year's Global X included 5 doctors, 2 pharmacists, 1 physical therapist, a few translators and other volunteers. The pharmacists gave 255 patients vitamins and medications; the physical therapist gave 70 patients necessary braces and wraps; and the whole team came prepared with eye glasses to provide 58 people with better vision.
Dr. Dan, Global X's OB/GYN, has become especially important to many families in Jericho over the last few years.
 "Every year we have somebody come to thank us for helping them a year ago because now they have a healthy new baby."
"There is so much demand for him," Fuad said. For instance, one woman waited from 9:00 a.m.-1:00 p.m. on the day she was scheduled to deliver her baby because she did not want to give birth until Dr. Dan examined her first. Many families rely on this visit because in Jericho, when a baby's head is not in the right place, doctors immediately schedule a woman for surgery rather than carefully moving the baby during the childbirth. "It's life changing to them, and he's the only one who can save them a lot of pain."
"First Come. First Serve."
Leading up to the clinic, Seeds of Hope advertises on Facebook in order to allow people time to mark their calendars. The turnout for the clinic is substantial as many people's health and wellness for the year depend on this day. Patients are seen on a 'first come first serve' basis so waiting a few hours is typical, yet to someone in need, undoubtedly worth it.
Many of the people are reoccurring patients from year to year. Fuad recounts the story of one man who is dependent on this day in order to maintain his life as he knows it.
Three years ago, a man with schizophrenia came to Fuad. The markets in Jericho had stopped carrying the only medications that worked to control his disease, and the new medications had given him horrible side effects. In preparation for their arrival, Fuad reached out to Global X who managed to find a similar product from America to bring with them to the upcoming clinic. The man gave this medication a try, and it worked. Since then, the volunteers have brought him a one year's supply of prescription medication (worth $320) for free each year when they return.
 "Without them, his life would not be the same."
To show his gratitude to Fuad and the Global X team, a few days after the clinic had ended, the man left Fuad a surprise on his desk. "I came back to my office and found a very big bag of nuts with a note asking me to give this to the doctors as a thank you for the medication that changed his life."
"There is a very, very big demand."
Currently, this medical clinic only runs once a year, but we are always so appreciative of donations and volunteers. If you are interested in donating, or are a specialized physician in pediatrics(children), dermatology (skin), orthopedics (bone), ophthalmology(eyes), or another field, please contact info@seedsofhope.org.
We are so grateful for the ability to change lives. Thanks for being with us on this journey.
Always Growing,
Seeds of Hope